Administrate provides easy "one-click" generation of certificates for events, using a generic template preloaded into the system. By default, the logo you choose and upload on your Company Settings page will be automatically applied to the template. Some training organizations prefer to use a completely customized certificate.
Requirements
If you wish to customize the standard certificate, contact the Support Team at support@getadministrate.com or speak with your implementation or account manager and ask for a Custom Certificate Request Form. It will provide the most current instructions on how to request a custom certificate. The form will ask for a background image, detailed instructions on fields to be merged into the certificate, as well as fonts, formats and colors.
Costs
Ask your implementation or account manager about the current rate for certificate customization work, or get in touch, and we'll be happy to create the certificates you need.
Certificate Generation Page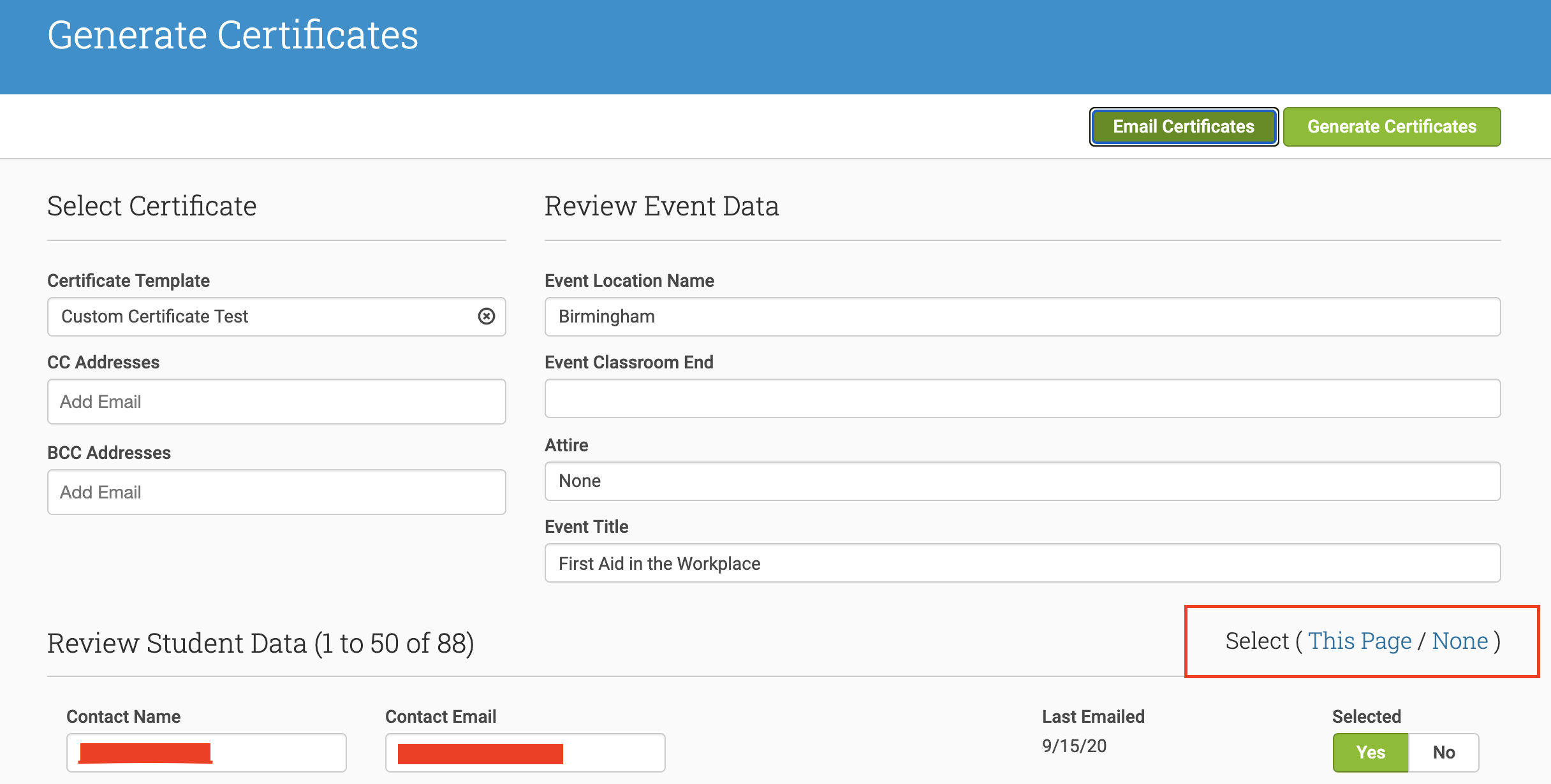 To get to the Generate Certificates page, go to an Event Students tab and select Options > Certificates from the dropdown menu.
There are a few buttons on this page that you will need to be aware of. The Email Certificates and Generate Certificates do as they are labeled. They will only email and generate the certificates that are marked "Yes" in the Selected column in the Student Data section. You can see that toggle in the bottom right of the image above. Each student on the event will have their own toggle. Each page holds 50 students, and you can only generate/email to the students on that page. You also have a Select all or none option for this page. If you click "This Page" it will toggle all the students to "Yes" and "None" will toggle them to "No". This also applies only to the page you are on. The settings and changes will not apply or be saved if you go to the next page.
If you have more than one page, you will need to deselect or select the students you want to generate/email a certificate for on a per-page basis.
FAQs
Q: We have a licensed font, can that be used on our certificates?
A: We recommend checking the license and verify that the font license grants permission to embed the font in commercially sold products.
Q: We have a font provided as part of an Adobe Creative Cloud subscription, can that be used?
A: Fonts available as part of an Adobe Creative Cloud subscription could be on the certificate templates only if the customer creates a flattened background image with all the fixed elements using these fonts.
Then we could display merge fields. e.g., the course title, student names, on our server using a different font with an open license or a license we purchased.