Overview
What is CloudShare?
CloudShare is an online platform which enables training providers to create virtual computing environments for their students. It enables them to create remotely accessible virtual machines which students can access and instructors can monitor.
For example, the trainer might create an environment which includes an Active Directory server and an Exchange server, to train Windows Server administrators on how to configure the two to allow company employees to get email accounts after joining the organisation.
What is the CloudShare integration?
The CloudShare integration leverages Administrate's Add-ons system, which allows a user to click a button in the TMS and "push" event, student, and other details to an external system.
With CloudShare, this integration automates setting up CloudShare Classes and Students, using existing information in the Administrate TMS. A walkthrough can be found in the attached PowerPoint file.
Set Up
CloudShare Configuration
An account will need set up in CloudShare with API credentials.

It's recommended that this is a service account, as opposed to linking it to an individual's account.
Administrate TMS Configuration 
If you are ready to turn on the CloudShare integration, simply contact support. They will enable the integration for you, and will ask for a couple pieces of information, like the CloudShare API credentials discussed above, and the Administrate API credentials you will use. When this is done, you will notice a few changes in your instance.
1. A new button will appear under the "Add-ons" menu in the Events screen called "Sync with CloudShare". This is the button you will use to sync relevant event and student details.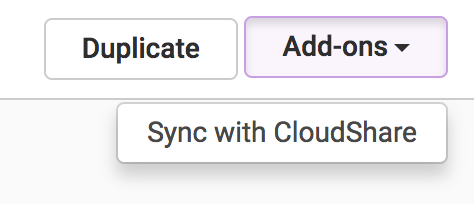 2. Three new custom fields will be created on your courses: CloudShare Project, CloudShare Policy and CloudShare Blueprint. These are used on your courses to tell CloudShare which settings to use when creating the class.
In order to start using the integration, you'll first need to record the IDs for the CloudShare Project, Policy and Blueprints on the course template(s) that you wish to use with CloudShare.
Using your integration
Basic Workflow
1. Make sure your course has the CloudShare Policy, Project and Blueprint IDs recorded.
2. Create your Event. Make sure you include an instructor that is a CloudShare user.
3. Click "Sync with CloudShare". Your CloudShare class will be automatically created using the details from your Administrate event.
4. Register students. Since the CloudShare class URL and passcode are now stored in the Event Notes, you can create automated email triggers which will send the class details along with the CloudShare login information to the student together in one email.
5. Click "Sync with CloudShare". This will add any newly registered students to the CloudShare class from your Administrate registrations. 
6. Teach your course! Your instructor and students will log into CloudShare when the class opens and enjoy all the great virtual lab features CloudShare has to offer!
7. Remember, if any other details change, like the event dates, the instructor, or the students, just click "Sync with CloudShare" again, and both systems will stay in sync.
FAQs
What should I check if I encounter an error when syncing?
There must be an instructor specified.
The instructor must have an account in CloudShare with the same email address as found on their Administrate Contact record.
The Event date needs to be scheduled in the future, if it's the first time you've performed the sync.
Work with our support team to check your CloudShare API credentials.
Check to see if the Max Students on the Event in Administrate exceeds your CloudShare class size limit.
Check that all the students have an email address. CloudShare will require an email address for each student.