You can now use SSO ( Single Sign-On ) with Administrate, be it for accessing the Administrate application itself (Core), or to allow your students to login to your Administrate LMS . Administrate uses OpenID Connect , an open standard for SSO authentication.

Activating this feature eliminates the requirement of an extra username and password to remember for all users involved, allowing for a single method of logging-in to a system provided by services such as:
If there is another service provider you need to use, you'll need to add and configure them .
Click on the name of the provider to open the options for activation.
To grant access to the Administrate application with SSO with the provider, click Enabled for Core .
To grant students access to the Administrate LMS with SSO with the provider, click Enabled for LMS .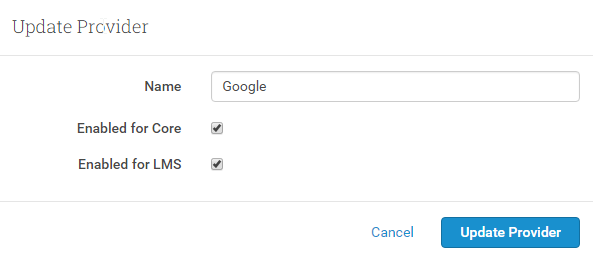 Google SSO is preconfigured for Administrate so all you need to do is to activate it for Core (the Administrate application itself) and/or the LMS (students' access). Activating it will grant all valid Google login credentials access to the respective part of Administrate. Once activated, a Login with Google button will appear on the relevant Administrate application login screen, Core or LMS.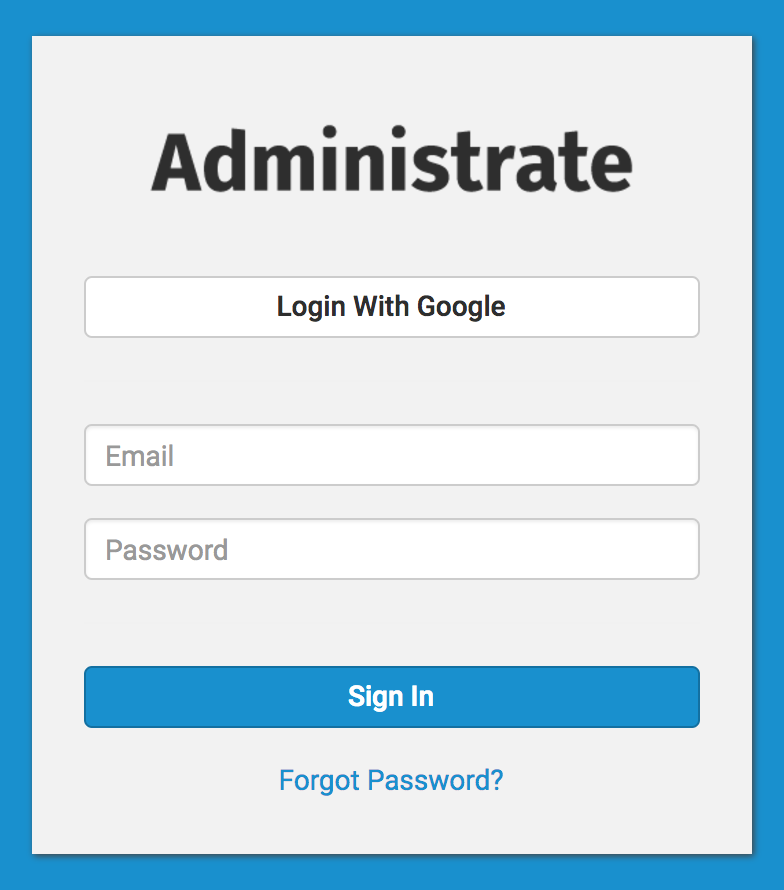 When a User first attempts to log in using Google SSO, Google will notify you of permissions that you'll grant Administrate. Click Accept to continue using Google SSO, or Cancel if you don't agree to the permissions.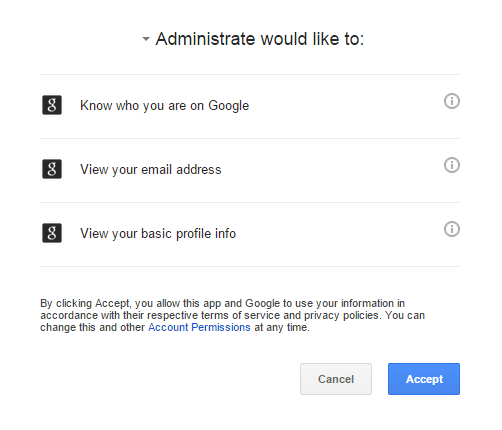 If the login failed, the User will be returned back to the login screen with the message, No user registered with this email address .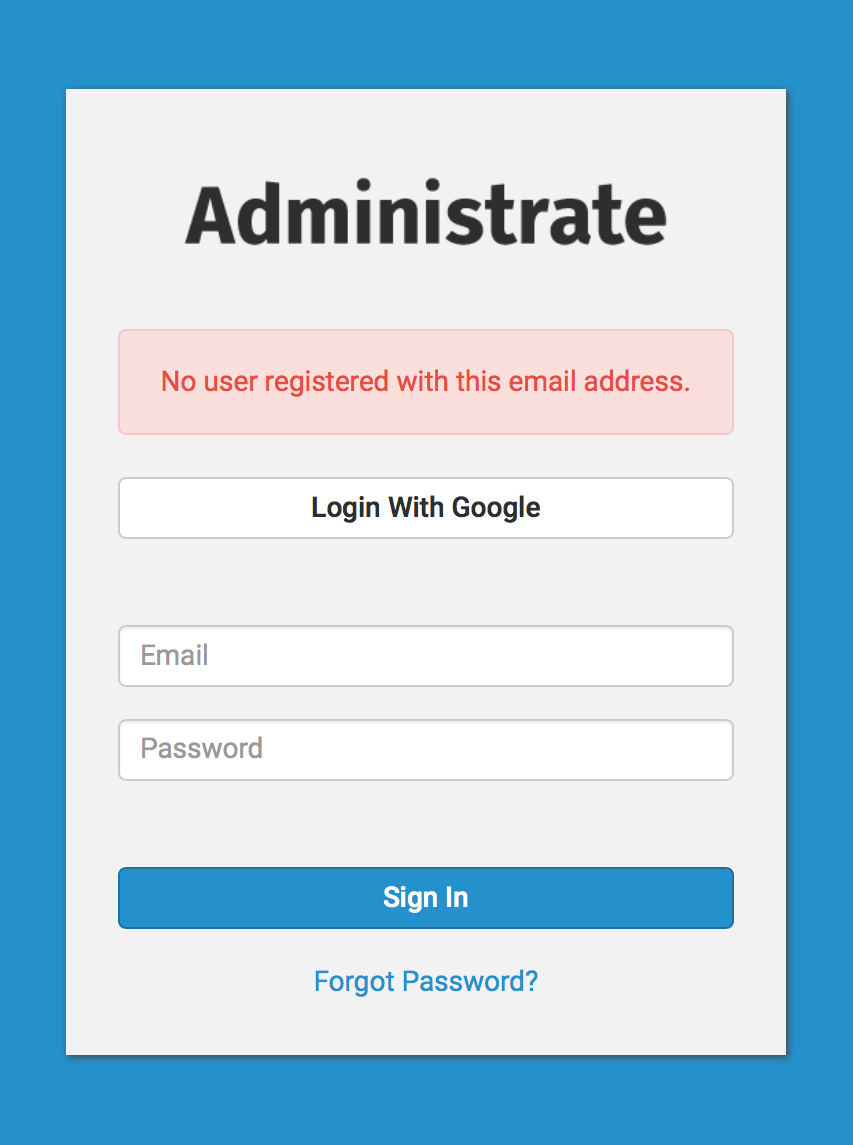 Administrate uses OpenID Connect , an open standard for SSO authentication. Please ensure that your provider is compatible. In addition to your required provider's documentation, please also check out the Resources for further information and help.
To add an SSO Provider, click +Add .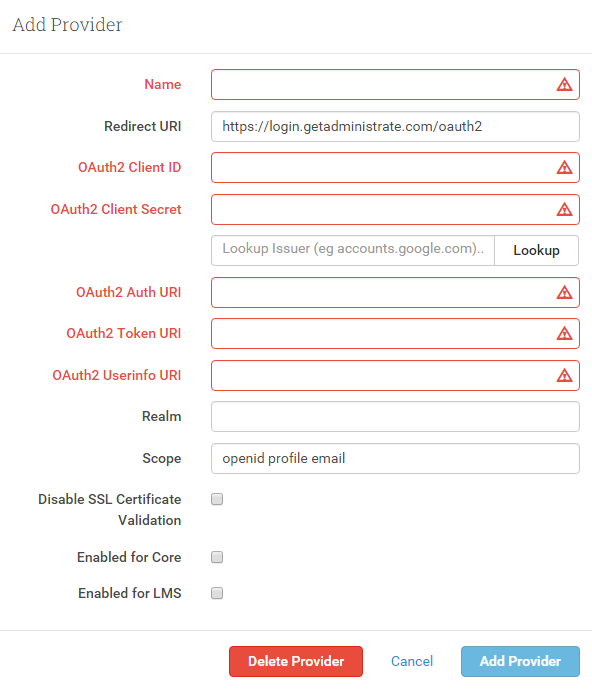 Hint
Before trying to find and fill out OAuth2 Auth URI, OAuth2 Token URI and OAuth2 Userinfo URI, you should try using the Lookup issuer function which will search for the required information and populate this form with the details where possible. e.g. entering accounts.google.com will lookup Google's required SSO information and populate the appropriate fields.
Default Values for Redirect URI
Unless otherwise directed by Administrate Support, use these values for Redirect URI when configuring Single Sign On:
Core Configuration: https://[your-subdomain].administrateapp.com/app/auth/oauth2/finalize
LMS Configuration: https://[your-subdomain].administratelms.com/login
Frequently Asked Questions about SSO.
Please check that the User has the same email address as the authentication service. For example, if logging into Administrate using SSO with rr@yourtraining.com, when your SSO provider has your email registered as rr@googlemail.com, it won't work. Please make sure that the two systems have the same corresponding credentials.
Here are some resources for OpenID Connect. Administrate is not responsible for the content or information provided on these resources.
OpenID Connect - The official page of OpenID Connect