Email Integration - CRM & Enquiries
The Email Integrations feature includes 2 different ways to integrate emails into Administrate.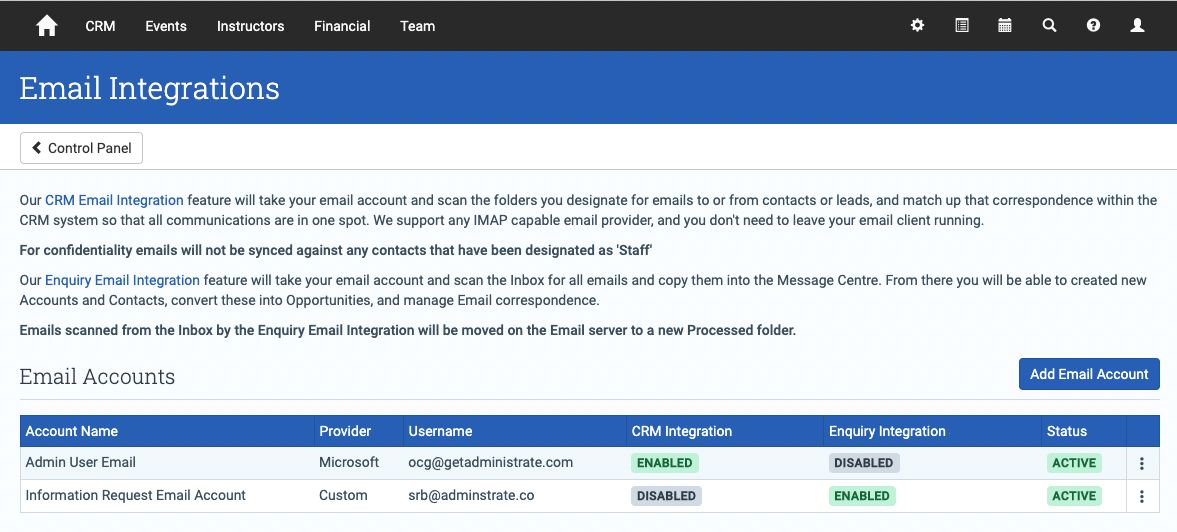 1. CRM Integration (formerly known as IMAP Email Integration) is designed to import the communications history your Administrate Users have with your Accounts and Contacts, removing any need to copy and paste correspondence into the CRM (Content Relationship Management) system.
Once you enter your email credentials, Administrate will scan the folders you designate for emails, matching the email addresses of your Contacts or Leads in your Administrate CRM. You'll then be able to view the correspondence in the History section of the Account's or Contact's screen.
This means that you can continue using your preferred mail client, e.g. Gmail, Mozilla Thunderbird, Microsoft Outlook, etc., to communicate with your Contacts and all correspondence will be automatically synchronized to the CRM. Then, other Administrate Users can easily see the conversation history with that Contact. Visibility of the email trail between your organization and your Accounts and Contacts is useful for when you have staff that are off sick, are away on holidays, or have someone else work with the same people and organizations.
2. Enquiries Integration is designed as a way to send general enquiries from a shared INBOX into Administrate to receive email enquiries through Administrate's Message Center. Within the Message Center, you will then be able to create new Accounts and Contacts from enquiries received and convert these into Opportunities. Email correspondence will also be stored against the contact record. To access the Message Center click on your user icon in the top right of the menu, then select Message Center.
We support Microsoft and any IMAP capable email provider (Custom), and you don't need to leave your email client running for either integration to function. The CRM sync is automated to run every hour, while the Enquiries sync runs every five minutes.
No matter which email integration you would like to use, you need to start by setting up your Email Accounts.