This article will show you some of the best practices for creating and authoring your SCORM content, so that your learners can access and complete your presentations, modules, quizzes and videos from any device.
Table of content
Making sure your learners' progress is updated
As your learners study a module, and watch or read your content, their progress is saved so that they can resume later, or go to the next module. They can keep track of their own progress directly in our LMS, and you can view their progress is also displayed in Administrate.
However, their progress will only be saved when the SCORM content report back to the LMS, so we recommend that you include call-to-action buttons in your content when needed. Especially when recording their final score and progress, learners must either close the tab or window in their browser, or click the button to complete and exist the course.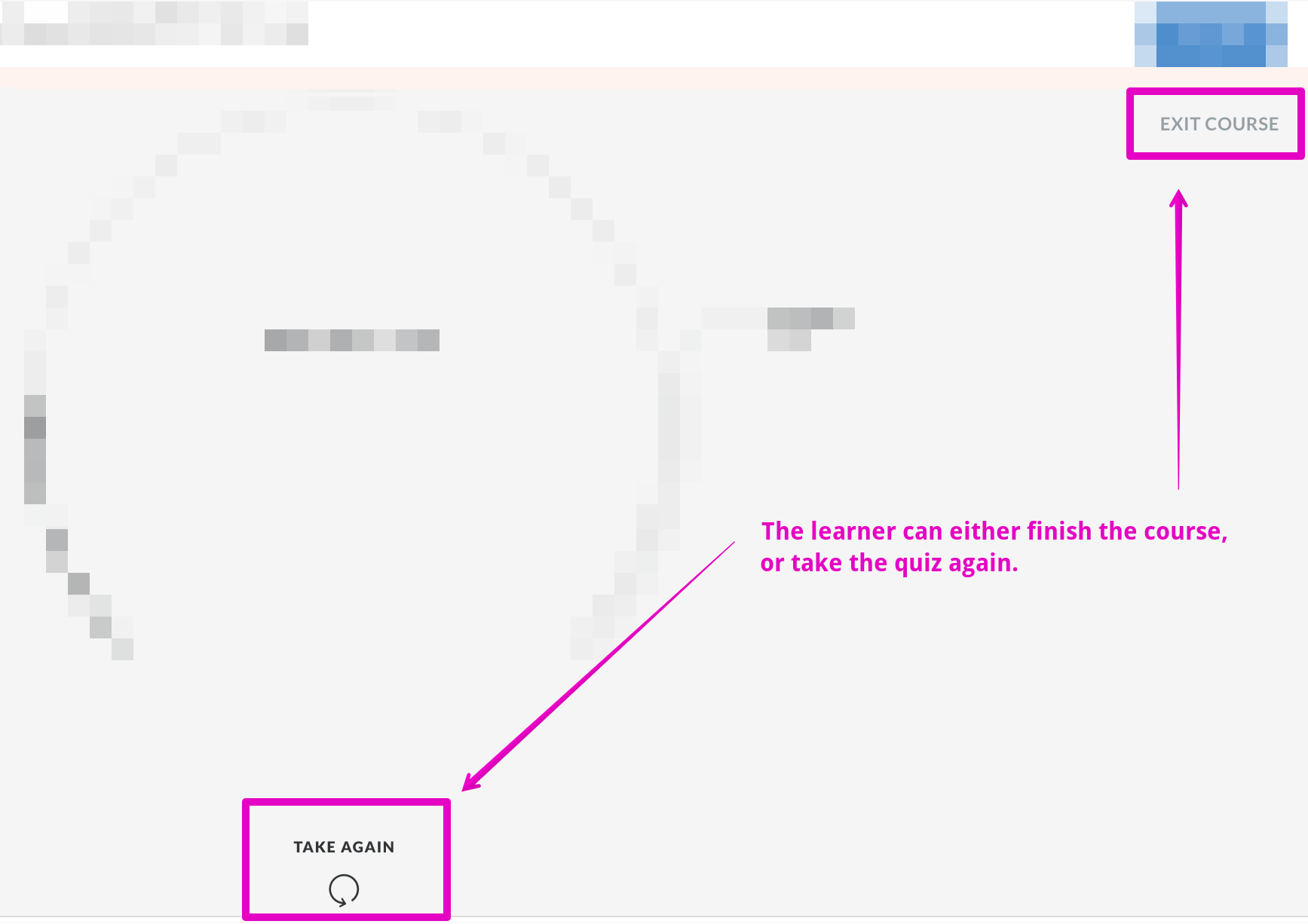 Showing a button to exit the course and close the window
An "Exit Course" button that catches their attention at the end of the module will ensure that their final progress is properly recorded by the LMS. This way, your learners won't get frustrated after finishing a module without getting a 100% progress. Make the button noticeable and obvious so that they can't miss it!
Guiding your learners through and at the end of a module
In addition to an "Exit Course" button at the end of the presentation or quiz, we also recommend providing clear instructions on what learners need to do.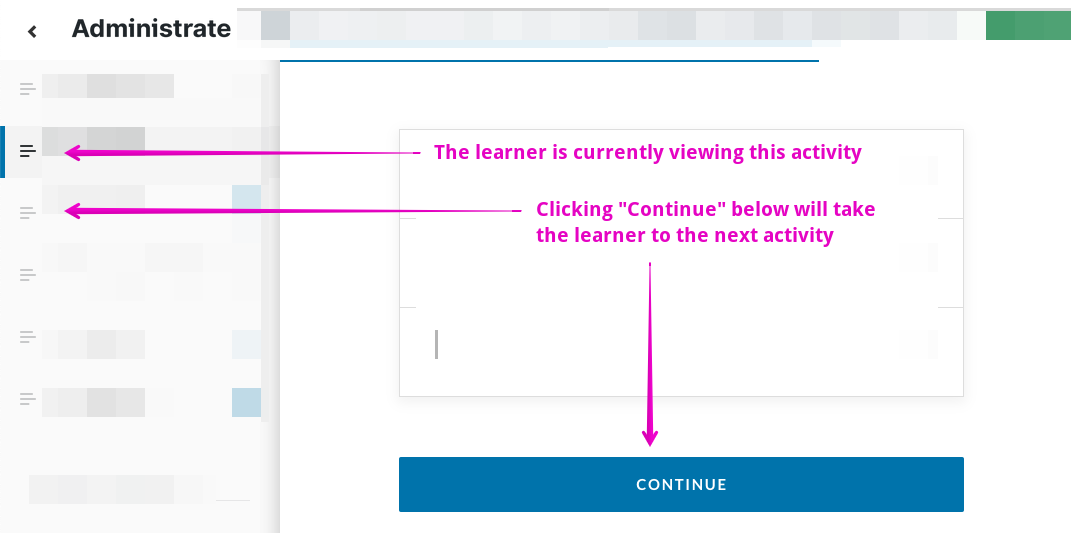 A clear action for each activity
Also providing clear steps or advice on what your learners should do if they would like to pause, stop or complete the module, or after they completed the module, will help them understand how your modules work and get more familiar with your content.
Keeping your learners connected
The LMS relies on browser cookies and a stable internet connection to track student progress in real time. This does mean there are various things that can occur to interrupt the learner's synchronization with the LMS, the most common of which is when the internet connection drops.
Fortunately, these types of scenarios are anticipated, which is why the LMS has built-in functionality to allow the learner to continue progress from the last point they achieved and to quickly see which modules are "incomplete".
However, it's not uncommon to see learners take a learning break during a longer module, by either hiding the tab while their attention is on another application or putting their device to sleep, and then expect to return to the same tab later to continue the module. In addition to the increased likelihood of their LMS connection being interrupted during a longer module, we can often see that the learner's device automatically breaks the connection with the LMS when they go idle or change network.
Ideally, each learner should close the module each time they take a learning break and re-open it when they're ready to continue. Performing that action will reinitiate the session and connection each time, which helps to mitigate synchronization issues, but isn't easy for you to control. Therefore, we do recommend two improvements when authoring the content:
Aim for the viewing time of each module to be between 15 to 30 minutes (a longer course would comprise of several modules); or

Insert check-in interactions at regular intervals so that the LMS will catch if a learner connection has timed out (such as having a slide every 20 minutes where the learner needs to click a button or answer a question to continue).

Avoiding Flash-only modules
As Adobe has now stopped distributing Flash Player, and is now blocking Flash content from running in Flash Player, we strongly recommend using HTML5 for your SCORM content. Your learners may not be able to read your content otherwise, and they may only see an empty space or an error message depending on the browser they use.


Flash content is not displayed in Firefox and Safari


Chrome and Chromium-based browsers tend to show an error that a plug-in is missing or not supported
Always offering an HTML5 version in your SCORM content will prevent that. You can read more about Flash being discontinued here on adobe.com.
SCORM vs video
If your entire SCORM content is just a video, you may want to consider not authoring it using SCORM, and simply uploading it as a video.
Our LMS can play videos perfectly, and our MP4 video player also supports adaptive streaming to provide the highest quality stream that is supported by the viewer's device and their Internet connection. Uploading a video file, instead of a video wrapped in a SCORM file, will be much simpler, faster and more efficient for your learners.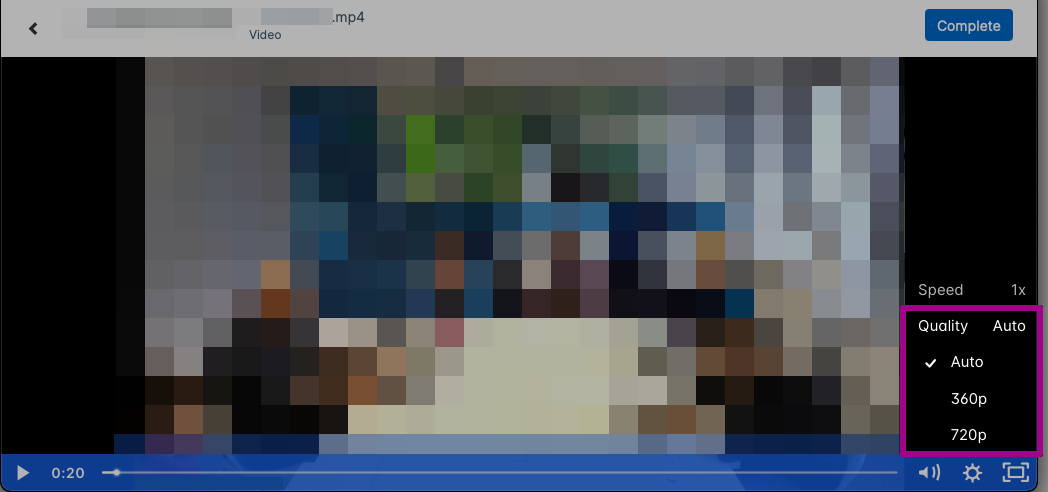 Video player and setting to adjust the quality in the lower right-hand corner

If you choose to wrap your video inside your SCORM content, make sure that you appropriately transcode the video stream, using a web-friendly format such as MP4, with a widespread compression standard like H.264, and a resolution, bitrate and framerate that offer the optimal balance between quality and speed for your learners.
Testing your SCORM content
Never launch an online module without testing your content! Once you have exported the zip file from your authoring tool, upload it to our LMS and go through your content like one of your learners would do. Verify that you can navigate the whole module, that you can view all the content, and that the design elements show as expected. You can test this on different browsers or devices, with different display resolution, to make sure your SCORM file is optimized for everyone.
If you notice anything that doesn't look right, you can also test your SCORM file on another platform, such as SCORM Cloud.
Troubleshooting
If your learners completed a module but their LMS progression hasn't updated
It happens if the SCORM content doesn't report back to the LMS, which can be when learners don't close the tab or window in their browser, or forget to perform an action or click a button to complete the course or record their progress. Read this section here about making sure your learner's progress is updated and this other one here about guiding your learners for more help on this.
If your learners only see a blank or gray window after launching a module
This would typically happen when a learner's browser cannot read your SCORM content, for instance if your content uses Flash, or if one of your videos was transcoded using an unusual compression or format that is not supported by their browser. You can read more about Flash here, and whether a video or SCORM file would be the best for your module here.