We've compiled a list of GraphQL resources that we use internally and find really valuable.
Table of content
What is GraphQL and how does it work?
The GraphQL Foundation has a great website which in itself is a great resource, but we especially love their Learn GraphQL introductory walkthrough.
Many of our employees in non-technical roles have been able to work through this tutorial and learn to use our API on their own!
Is there any way for me to visualize our API schema?
One of the best features of GraphQL is that the data is completely structured, so it's easy to visualize the connections between different types of records. Follow these steps below to generate an interactive "map" that looks something like an entity-relationship diagram.
Go to this free GraphQL Voyager tool,
Click "Change Schema",
Click the "Introspection" tab,
Click "Copy Introspection Query",
In a new tab or window, go to our Developer Portal, and:


Paste the query into the "Editor" section of the page,
Click "Run" and wait for a few seconds,
Copy all the text from the "Results" section,

Now go back to the GraphQL Voyager tool, and paste the result into the "Paste Introspection Results" text box,
Click "Display".
What other Administrate-specific resources are available?
We've mentioned our Developer Portal a couple of times, but it's not just for documentation. Here, you can sign up for a free developer account, which comes with a sandboxed dedicated developer instance, and learn our API in a safe test environment.
To create a developer instance
Go to our Developer Portal here and click "Sign up", or go directly to this page here to sign up,
Enter a unique email address,
Click "Create account" and we'll send you a link to verify your email address,
Check your mailbox and click the link in the email – check your spam folder if you can't find it,
Enter your name and choose a password, and click "Create account".
You'll be logged in to the Developer Portal, and it'll create a new developer instance for you. Note that this instance is a test environment, and it's completely separate from any other instances that you may already have.
To access your developer instance
To find where you can log in to your developer instance, select "My Account" and "Developer Instance" in the menu when you're still on the Developer Portal: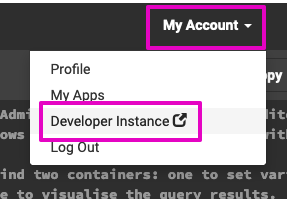 This will open a new tab with your developer instance: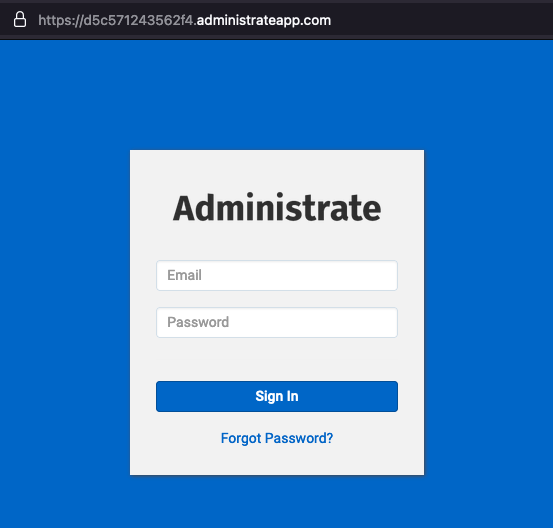 Here, log in with the same email address and password as on the Developer Portal. You'll be logged in as a Super User.