Contacts are the people associated with your Accounts. They can attend your Events, receive your communications, or even be a member of your staff.
This setting lets you toggle:
Default Setting: No
This will toggle the display of a drop-down menu to select a salutation when you edit a Contact, as well as display the salutation on their Contact screen.
Disabling this will remove the function completely so that their salutation, even if set, will not be displayed on the Contact's screen. If a salutation has been previously set it will remain saved, but it won't appear until this setting is set to Yes.
When viewing your list of Contacts it will remain as first and last name, regardless of this setting.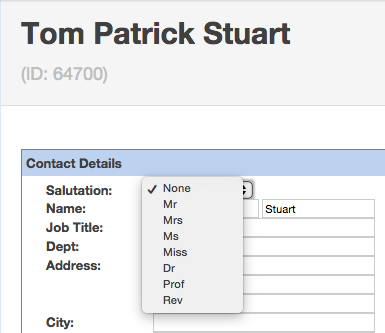 Default Setting: No
This will toggle the display of the middle name field when you edit a Contact's screen.
Once you start typing the middle name, it will update the Contact's name in real time.
Note
This setting only applies to the editable fields on the Contact's screen. If the middle name field has already been filled out, and this setting is then disabled, then it will still display their middle name on the Contact's. On the list of Contacts, there is no change: only the first and last name will be displayed.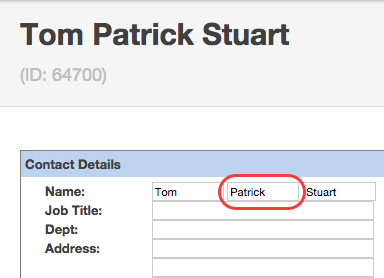 Default Setting: Yes
When set to yes, the email address field in a Contact's page cannot be empty when trying to save their record. When creating or editing a Contact with this setting on, you will be prompted to enter an email address if that field is empty when saving the Contact.
Current Contacts without an email address will not be affected.
Note
This is a useful option to have enabled, especially if you use LMS which requires a unique email address for every student.