Administrate Chat is available to all customers on paid Support SLAs or paid members of Administrate University.
Table of contents
Overview
Administrate now offers chat functionality to allow Users of the TMS to have direct access to the Administrate Support Agents.
This functionality is available on every page of the TMS and ensures you can get the answers you need while working on the page in question.
Note: This feature is only available on our paid Support SLAs. If you are interested in having access to this functionality, please reach out to our support team who can direct your query.
Who can use Administrate Chat?
Once you've spoken with Support and they have enabled Administrate Chat on your instance, you need to select which users can use it. Only Users with a specific User Role will be able to view and utilize the Administrate Chat functionality.
Users who can use Administrate Chat need to be assigned the role "Administrate Chat User". This is done directly on the User but assigning them that specific Role - see below:

You can remove access to Users by unchecking the "Administrate Chat User" role.
Using Administrate Chat
When you are in the TMS, you will notice a speech bubble in the lower-left corner:

Clicking this bubble opens the conversation window:
How do I start a conversation?
Click "Start conversation" and you will be connected to a Support Agent. They will respond and you can outline your scenario with the Agent and they will assist you with your inquiry.
Once your conversation is complete, the Support Agent will close the conversation and you will be asked to give feedback on the Support you received - please provide feedback where possible to help us improve. Additionally, the history of your conversation will be visible in the chat window next time you open it up.
If the agent is not able to solve your query within the chat, they will convert the conversation into a ticket and the support team will follow up as appropriate.
Do conversations always happen in real-time?
Not necessarily. The chat widget can also be used asynchronously.
For example, you can start a conversation and leave a message if no agent is available. Then, you can close the widget and, ten minutes later, come back to the chat widget to send us some more details. As soon as we're online, we'll get back to you and you'll get a notification in the chat widget. You don't have to answer immediately if you're busy, and you can reopen the chat widget whenever you like and reply to us there.
How do I leave a message?
If you clicked "Start conversation" but no agent is available at the time, you can leave a message. We'll get back to you as soon as we are online.
You can close the widget after you left a message.
Once we answered, you'll see a notification on the chat widget. Just click the chat widget to view the conversation and reply. You'll also get a notification by email.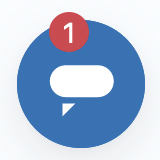 Can I attach images and documents?
Of course, you can send us images, videos, PDFs, and text files.
Drag and drop the file(s) onto the window, or click the paperclip icon on the left-hand side of the message box and select the file(s).
Can I have multiple conversations at the same time?
Not at the moment, but it'll be possible soon. For now, you can have only one active conversation at a time. But feel free to bring up any issues or questions to our team, even in the same conversation! We're happy to help.
How do I search for relevant support articles?
If you do not choose to start a conversation, you can use the chat widget to search our Support documentation directly from within Administrate. A powerful AI will analyze your query and suggest relevant articles to help you.
Type in your query in the message box:

Then send the message to get the results:
If you're not happy with the article suggestions, click "Start conversation" to chat directly with us.
How do I start over?
To start over and see the option to start a conversation, either:
click "

No, I still need help

" if it is available, then click "Start over",
type anything in the message box, then click "Start over".
When starting over, you'll get the initial message again, and can start a conversation from there.
Reporting
You can view which Users in your organization have the "Administrate Chat User" User Role enabled by using the Reporting Engine. Create a Report with the entity "User" and you can use the "Administrate Chat User" option to filter the report or as an output column.