Xero is a world-class cloud-based accounting package. The Xero integration will synchronise Sales Invoices and Payments. Sales Invoices created in Administrate will be sent to Xero upon finalisation of the Invoice. Payments created against Invoices in Xero will be synced back to Administrate on an hourly basis, however you can sync manually at any time. For more information, please see our Xero Guide.
Integrating with Xero is simple, as the Set up wizard will help guide you through the 4 step process. The thumb icon indicates whether the integration process has been completed.
The first step is for connecting your Administrate Company to your Xero Organisation. The next three steps are for 'mapping', that is, associating the relevant invoice fields in your Administrate instance to their counterparts in your Xero account. This will result in properly synced invoices.
If during the process you leave some fields blank, then these will be considered 'ignored' by Xero (that is, they won't be recognised if you try to synchronise an invoice which contains those fields).
After mapping, if you add any additional currencies, tax rates or financial accounts to your Administrate instance, you will need to come back to this screen and map them before you can create an invoice which makes use of them.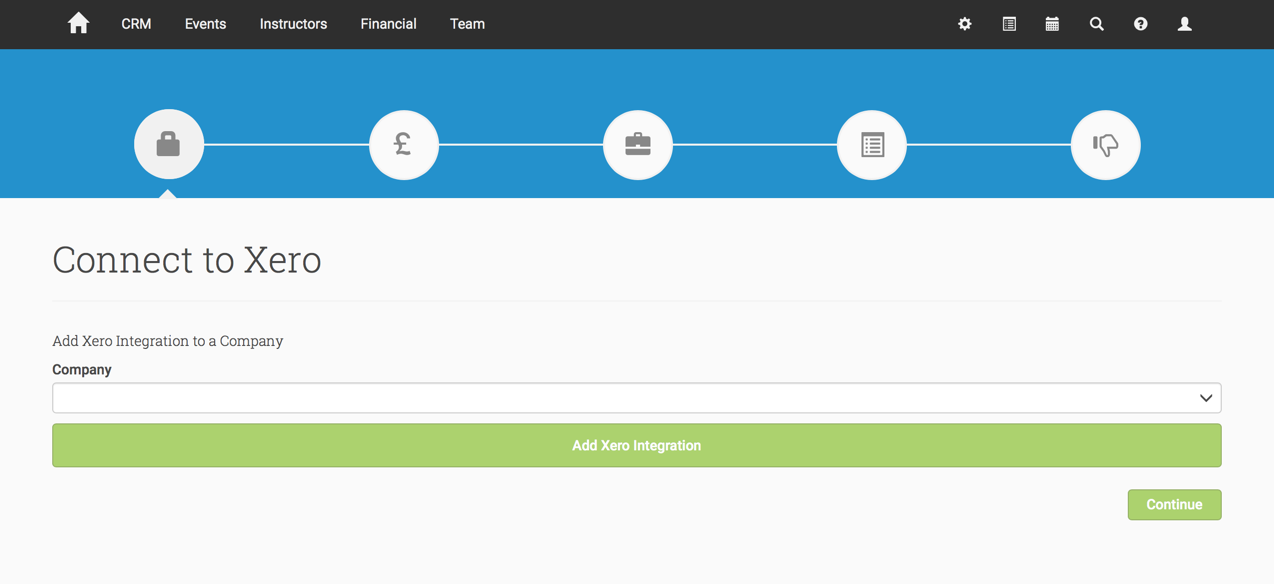 Once you have successfully integrated with Xero and completed an initial sync, you will have access to the Status tab:
Map Currencies in Administrate with Xero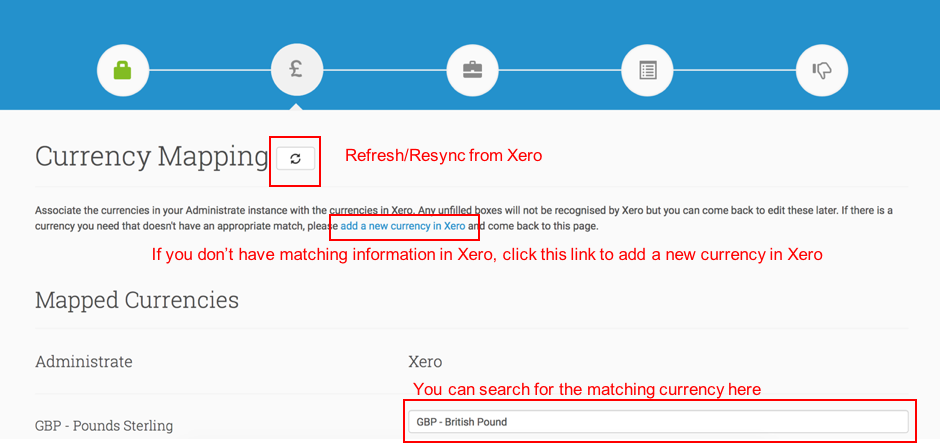 Map your currencies: if you don't have the same currencies set up in Xero, please follow the link on-screen to set them up (and then use the to resync)
Click Continue once you're happy with your currency mapping
Map Tax Rates in Administrate with Xero

Map your Tax Rates into Xero: if you've not already got a matching Tax Rate in Xero, click to add it.
Click Continue once you're happy with your tax rate mapping.
Map Financial Accounts in Administrate with Xero
You don't need to map all your Chart of accounts, just those which you will be including in invoices being synced to Xero. We display the most relevant fields to you (Public Course Income, Private Training Income and any other Administrate Financial Accounts that have items associated with them). If you wish to see more, click Show all.

Map your Financial Accounts into Xero: if you've not already got a matching Financial Account in Xero, click to add it.
Click Continue once you're happy with your Financial Accounts mapping.
This will complete your Xero set up!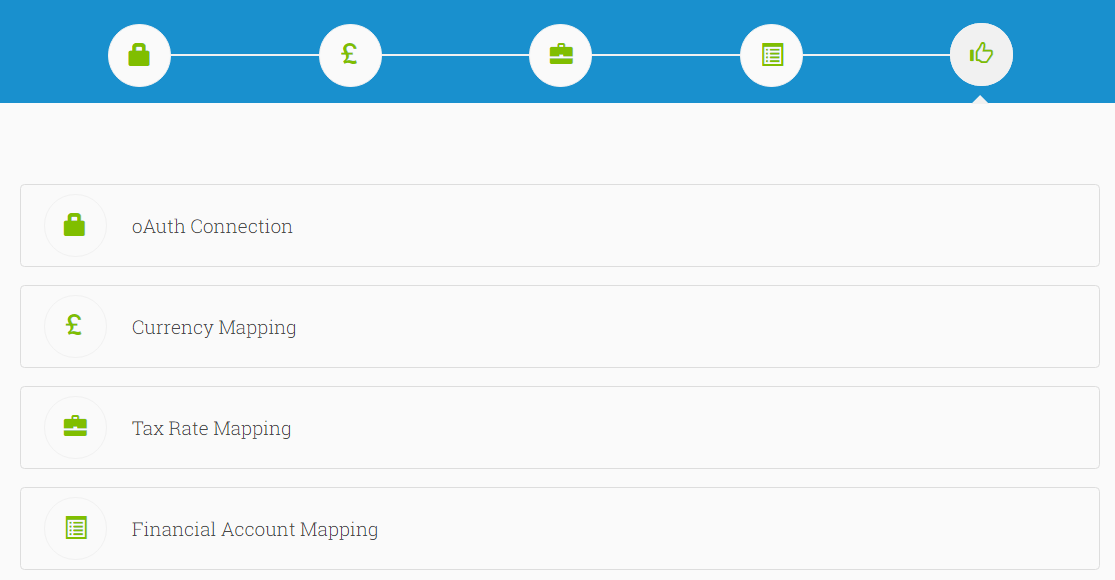 Xero Status tab (Syncing and Error Logs)
This tab is available once you've successfully completed your Xero Integration set up and completed an initial sync.
How do I view and resolve Xero synchronisation problems?
In the Status tab, a table will detail errors and how to resolve them. As per the note above, after setting up the Xero integration and completing the initial sync, you'll see a summary of the status of your sync.
If (and only if) there are errors in the synchronisation that require your attention there will be an Error Log detailing what these errors are, and how to resolve them.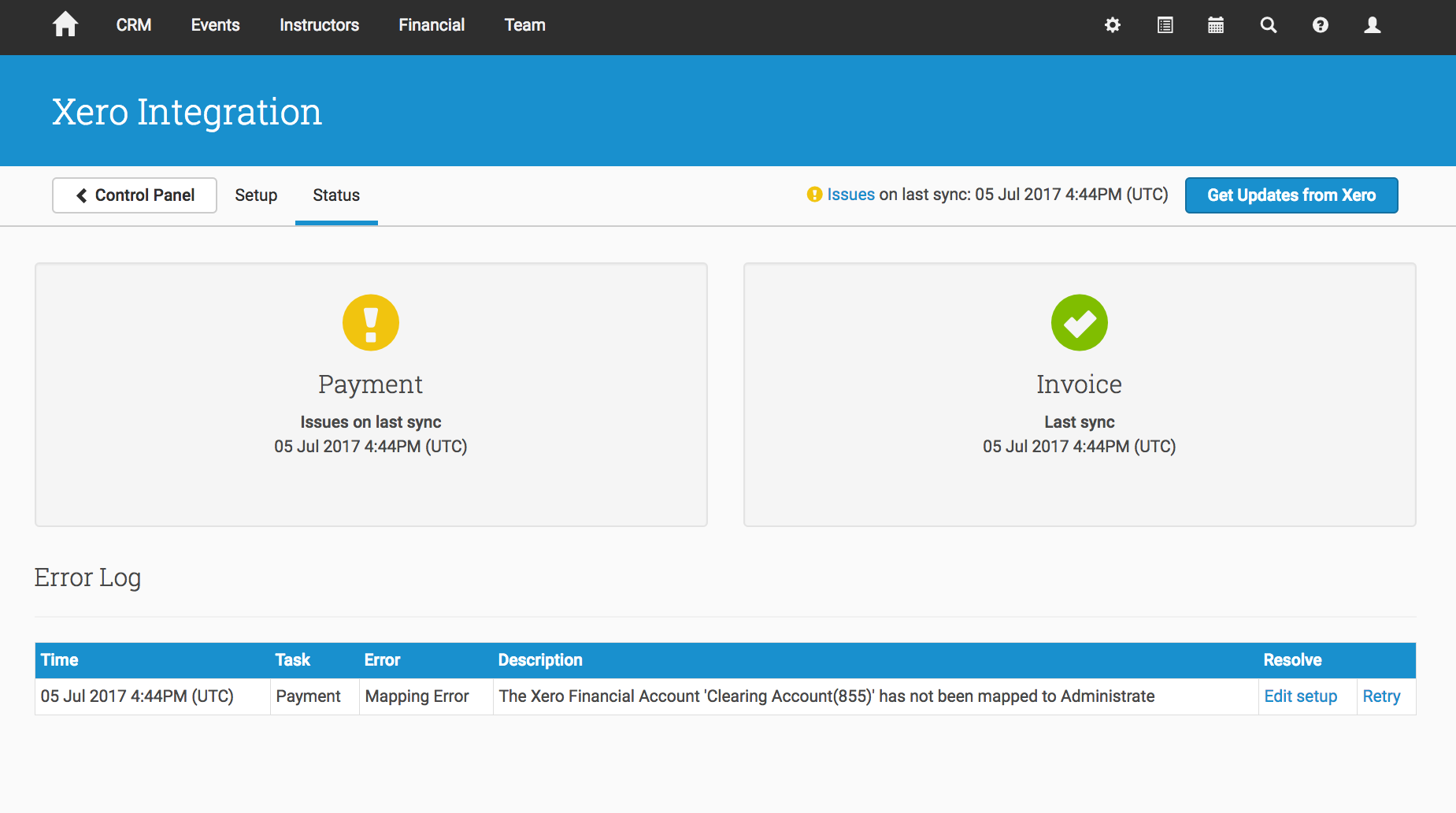 How often does the automatic Xero Sync run?
The automatic sync runs every hour as per the following:
| | |
| --- | --- |
| Invoices | 7 minutes past every hour. ex: 11:07 → 12:07 → 13:07 |
| Payments | 10 minutes past every hour. ex: 11:10 → 12:10 → 13:10 |
Can I manually sync Xero?
If you wish to force a synchronisation, e.g. you have just created some Payments in Xero not long after the last automatic sync has been run, click the Get Updates from Xero button. This button is featured on the following screens:
Sales Ledger
Account's Financial tab
Xero Integration Status tab (Super Users only)
The last update time will indicate how up to date the log is.
What are some typical errors and resolutions?
Each entry will be provided with a description of the error, and instructions on how to resolve them. Once you've taken the appropriate action, please click Retry on the appropriate row to resync. If there are no further problems with that issue, the row will be resolved and be removed from the table.
| Error | Resolution |
| --- | --- |
| Mapping | Review your setup and check you've correctly linked all the Currency, Tax and Financial Accounts used on your Invoices and Payments. |
| Sync | The sync wasn't able to complete, contact Administrate Support. |
How can I easily stay up to date with the status of Xero syncs?
Add the XeroSyncStatus Gadget to your Administrate Homepage. It'll display a summary of the sync statuses. Click View Status to see the Xero Status tab for more details (Super Users only, as this is a Control Panel setting).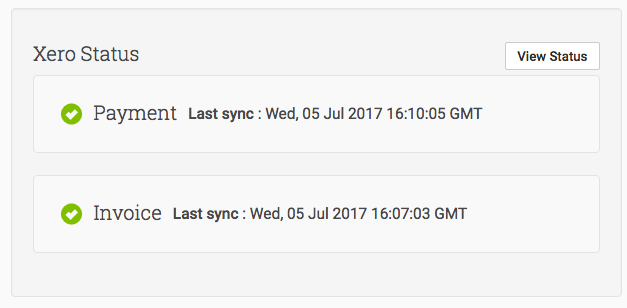 What if my Xero connection is disconnected?
This can happen if there is a problem For example, the integration may have been manually disconnected from your Xero organisation, or your Xero Organisation might have expired (e.g. if you're using Xero's Demo organisation). Just click your Company name and 'Connect to Xero' again to reconnect.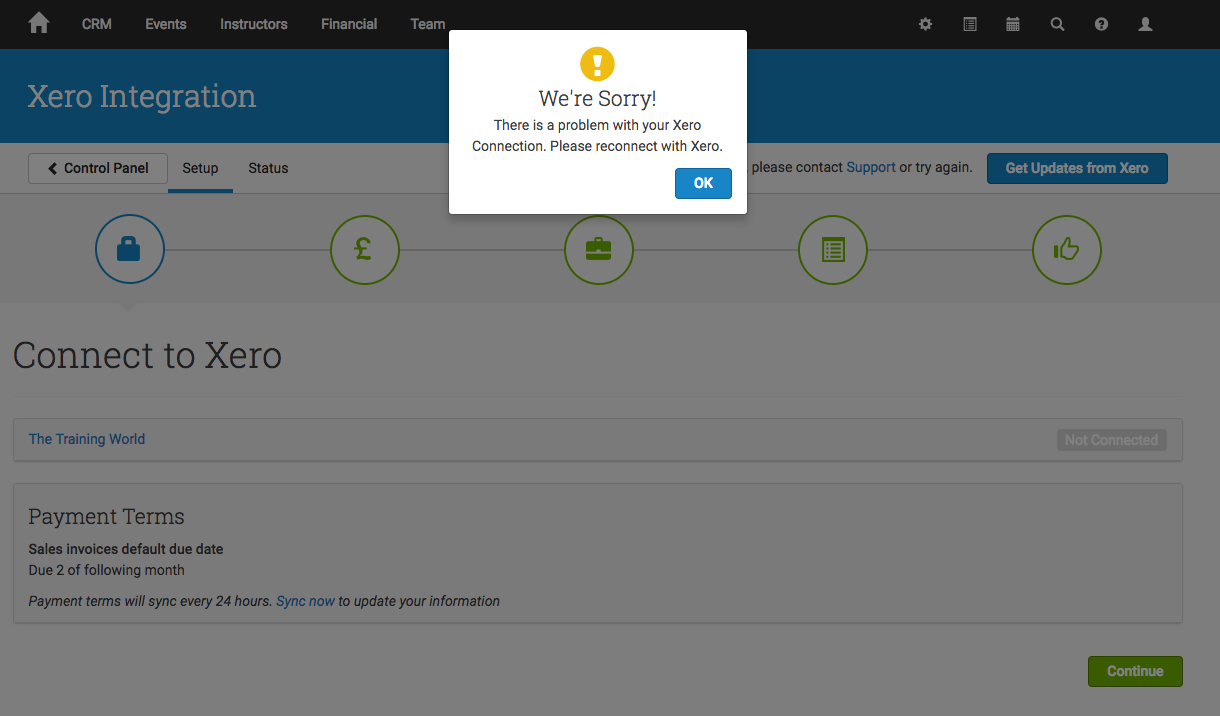 Can I connect more than 1 Administrate Company?
No, only 1 Company can be connected to Xero.