SurveyMonkey Integration
Note
A SurveyMonkey annual subscription is required to use this integration. Please make sure you're logged into the appropriate SurveyMonkey account if you have multiple SurveyMonkey accounts.
What is it?
SurveyMonkey is the world's leading provider of web-based survey solutions for gathering the insights required to make more informed decisions. With our integration you can synchronise your SurveyMonkey surveys with your classes in Administrate, meaning you can customise and save time on feedback sending and response management. Understand what students think of your course, measure instructor performance and get insight into how to continuously improve your offerings.
With this integration you'll be able to:
associate a SurveyMonkey survey to a Course Template / Event;
email the SurveyMonkey survey to students for them to fill in online;
share a link to the survey in order to collect anonymous responses;
view individual SurveyMonkey responses within Administrate.
Supported SurveyMonkey Question Types:
Single choice (vertical, horizontal, menu)
Open-ended (single, multi, numerical, essay)
Multiple choice (vertical)
Matrix (weighted answers only), demographic datetime and presentation questions
Using results from SurveyMonkey surveys in the Administrate Reporting Engine*
* You'll be also able to view the responses for past surveys associated with an Event directly from your Event Feedback section. In addition, there is also the Analytic Tools on SurveyMonkey to report on your responses.
Currently Unsupported:
multiple SurveyMonkey accounts
Please see the documentation for Survey Monkey Feedback for more information on how surveys work once you've completed the integration.
How do I integrate Administrate with SurveyMonkey?
In the SurveyMonkey setting in the Integrations panel in the Control Panel:
Click Activate to start the authorisation process

Follow the on-screen instructions by SurveyMonkey

You'll be notified that the SurveyMonkey Integration will have been successfully set up

Assign Surveys to your Course Templates or Events (this can be done at any time).
You'll find the Feedback Survey selection in your Course Templates. You can select a default survey for the Course.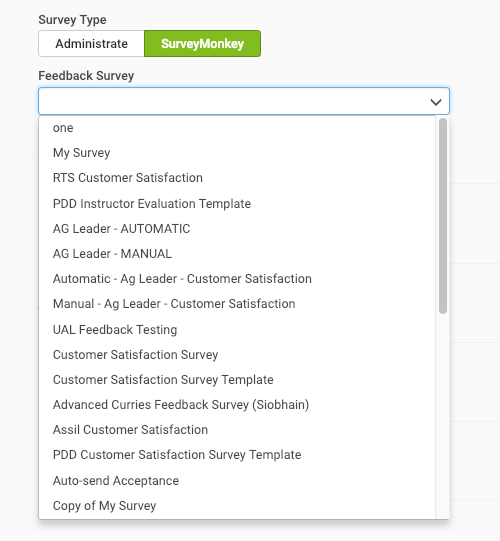 Even if you've selected a SurveyMonkey survey for a Course, you can choose another survey to associate with a particular Event. This can be different to the Courses' default. In the Event's Feedback Section, click Replace Feedback.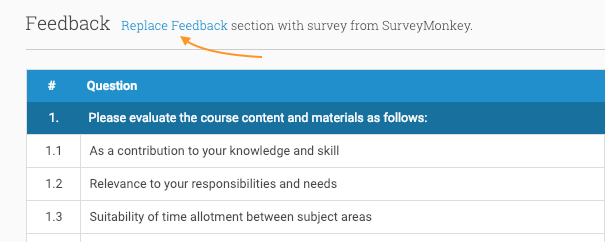 SurveyMonkey Automated Trigger
If you wish to automate your SurveyMonkey integration using a trigger you can do so by heading to the triggers workspace through the control panel and clicking Add. You'll then need to choose your SurveyMonkey template which will automatically decide your audience as respondents. All other trigger settings should be customizable similar to other triggers you may have made. For more on trigger fundamentals please check out our trigger documentation here.
How do I disable the SurveyMonkey Integration?
If you wish to do this for any reason, in the SurveyMonkey Integration Setting, set Enabled to No and Save. This will revert your Feedback back to Administrate's system.